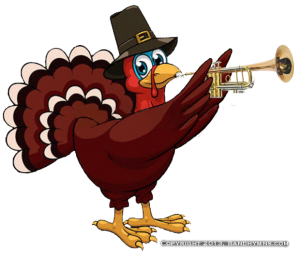 Be like Thomas the trumpet playing turkey.  Give thanks through music!
Now you can too because the Bandhymns.com is happy to announce we have posted four Thanksgiving hymns for all instruments.  Hymns 92, 93, 94, and 95 for B-flat instruments, E-flat instruments, Flute, French Horn, Trombone, and Tuba are posted, both duets and complete 4-part arrangements.
Download your copies today!  Make sure to play for your family gathering!