Patriotic Pioneers
A Compilation of Hymns for Flute
This compilation is perfect for the month of July in America.  Celebrate Independence Day (July 4) and Pioneer Day (July 24) with this compilation.  Although the pioneer trek to Utah occurred in America, there have been millions of pioneers to the Gospel across the world who can share in the heritage of these hymns.
---
Hymns in this Compilation:
Hymn 30 – Come, Come, Ye Saints
Hymn 34 – O Ye Mountains High
Hymn 35 – For the Strength of the Hills
Hymn 36 – They, the Builders of the Nation
Hymn 60 – Battle Hymn of the Republic
Hymn 254 – True to the Faith
Hymn 338 – America the Beautiful
Hymn 339 – My Country, 'Tis of Thee
Hymn 340 – The Star-Stangled Banner
---
The following pics show the key signature for each hymn in this bundle.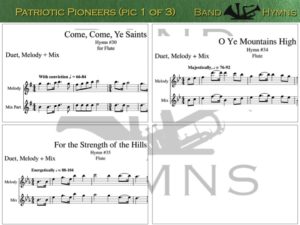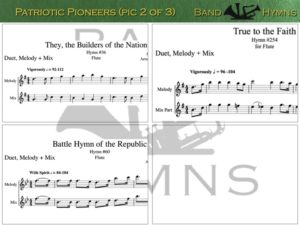 ---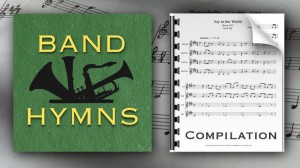 This compilation of duets for Flute is transposed from the LDS hymnal and can be played along with the piano or organ as written right out of the hymn book.  Play as a solo, duet, or with a piano or organ at your church party or talent show, for friends or family, or along with a choir.
This digital download of duets consists of 9 hymns transposed from the green LDS Hymnal for your instrument.  The download format is a PDF of 10 pages (one hymn per page plus a cover page).
Because the arrangements are written to be played along with the piano or organ music in the green hymnal, some hymns' key signatures are more difficult to play than others.  This compilation has some easy arrangements for beginning students and some more difficult arrangements.