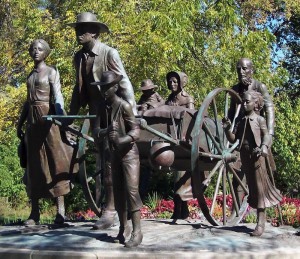 We had a special request to do hymn #254, True to the Faith, from a young woman planning to go with her stake youth on Pioneer Trek this summer.  She's super excited and was anxious to ask for the announced Trek theme.  We were happy to oblige!
We have posted duet arrangements for hymn #254 for our typical instruments, available for download now.  Please click on your instrument from our Get to the Music! page and scroll down to hymn #254.  This duet is a fun one particularly in the second part.  It's got a wonderful moving part that is a lot of fun to play (after some practice).  Check it out!
Not everyone on the staff here at Bandhymns.com has been on trek, but those who have certainly have stories to tell.  We wish Kayla the best of luck for her upcoming trek!