Invite the spirit of the season by playing these wonderful Christmas hymns.
---
Hymns in this Compilation:
201 – Joy to the World
202 – Oh, Come, All Ye Faithful
203 – Angels We Have Heard on High
204 – Silent Night
205 – Once in Royal David's City
207 – It Came Upon the Midnight Clear
208 – O Little Town of Bethlehem
209 – Hark!  The Herald Angels Sing
210 – With Wondering Awe
211 – While Shepherds Watched Their Flocks
212 – Far, Far Away on Judea's Plains
213 – The First Noel
214 – I Heard the Bells on Christmas Day
---
The following pics show the key signature for each hymn in this bundle.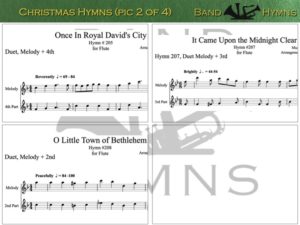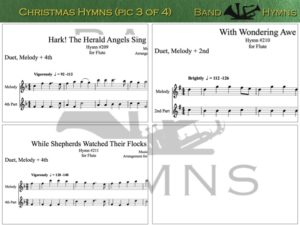 ---

This compilation of duets for Flute are transposed from the LDS hymnal and can be played along with the piano or organ as written right out of the hymn book.  Play as a solo, duet, or with a piano or organ at your church Christmas party or talent show, for friends or family, or along with a choir or carolers.
This digital download of duets consists of 13 Christmas hymns transposed from the green LDS Hymnal for your instrument.  The download format is a PDF of 14 pages (one hymn per page plus a cover page).
Because the arrangements are written to be played along with the piano or organ music in the green hymnal, some hymns' key signatures are more difficult to play than others.  This compilation has some easy arrangements for beginning students and some more difficult arrangements.